Information
Party Location | Travel Information | Shuttle Service | Accommodation | FeesGeneral Rules
The 2nd Nightshift has the same location ( İstanbul / Türkiye ) as the previous one which is İstanbul Bilgi University's Library & E-Sources.We are going to rock the Study Hall again!
Party Location
The Party will be held on İstanbul's small district called Mecidiyeköy where the campus is located.There are two floors in Study Hall. We have tables for 60 people on the 1st floor. We have 52 x Pentium 4, 3.00Ghz (512Mb Ram) public computers on the 2nd Floor. Both floors have the capacity for 250 people. We also have tables for 200 people in cafeteria area ( entrance of the study hall ) which is fully wi-fi'ed too. There are also clean showers available at gym - area. Our total capacity is between 500 - 750 people!


Full address is :
İstanbul Bilgi Üniversitesi Kuştepe Kampüsü,
İnönü Caddesi No : 95 - 34387 - Şişli - Kuştepe
İstanbul/Türkiye
+90 212 311 50 00
Travel Information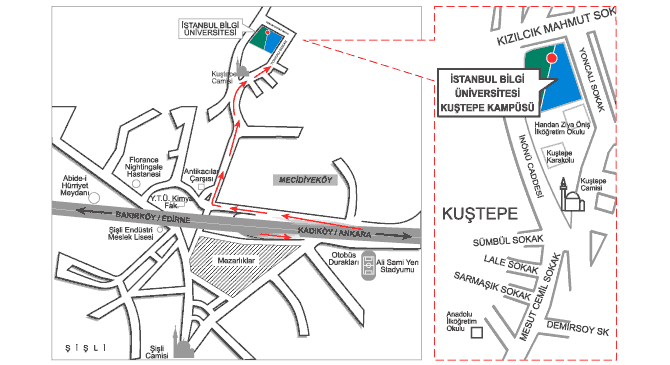 This page is especialy designed for foreign sceners who are considering to come to Türkiye by airplane. We have two different airports in İstanbul. The Most known one is located on the European side, which is called Atatürk Airport. This is the closest one to the party place. The other is located to the Asian side which is called Sabiha Gökçen (SAW) Airport. There is a Shuttle Service at both airports.
Shuttle from Atatürk Airport
Hours between 06:00 - 23:00
Shuttle costs 8.50 YTL ( 4.9 EU )
You have to get off at Tepebaşı. You can use Metro to come to Mecidiyeköy or get on a taxi. Taxi will costs almost 7.00 YTL ( 4.3 EU )
Shuttle from Sabiha Gökçen Airport ( SAW )
Hours between 05:30 - 09:00 or 14:00 - 18:30
Shuttle costs 9.00 YTL ( 5.5 EU )
You have to get off at Kozyatağı and call organizers ; )
Request Shuttle!
This is new service from Nightshift! We have a chance to arrange shuttle buses depending on the request amount. Please fill in the Shuttle Service form if you are interested.
Some airlines web sites
Lufthansa | German Wings | KLM | Air France | Turkish Airlines
Shuttle Service
We'll arrange a shuttle-service between the air-port(s) and the party location. If you like to make use of this, please fill in the request form click here. If you like to see your reuqest status please click here.
Accommodation
The Party place is always the perfect location to sleep! if you can ;) If you realy plan to come to the party, please get in touch with us if you need any hotel reservation.
Fees
Entrance Fee
Free for long distance ( out side of İstanbul + any foreign country! ) & girls. For local, regular price is 20 YTL.
Free Download
Hot / cold water
Tea / Herbals
Coffe / sugar / cream
Buffet between 08:00 am - 18:00 pm
Sandwiches : 2 YTL (1 EU)
Salads : 3 YTL (1.5 EU)
Pizza : 3 YTL (1.5 EU)
Macaroni / Ravioli : 3 YTL (1.5 EU)
Special Chicken : 4 YTL (2 EU)
Schnitzel : 4 YTL (2 EU)
French Fries : 2 YTL (1 EU)
General Rules
There are some strict rules due to being in a university.
It is not allowed to walk arround inside of the building except the party location.
If you don't behave your self, you will be banned from the location.
Do not steal or destroy anything related to school property.
Alchohol is extremely prohibited if you are under 18.
Use nylon thrash-bags to keep your garbage.
Do not TAG or STICK anything to anywhere.
Organizers are not responsible for your own equipment. Please take care of your self.
This is not a game/lan or copy party ! do not forget that!